Snowshoe Trek
Snowshoe trek "Fun"
Where
Interlaken, Grindelwald, Wengen, Jungfrau area.
Snowshoe trekking is the ideal option for skiers and non skiers alike.
On a flying visit ?
Would you like to get a quick taste of "Swissness", fabulous scenery, walk through the pure white snow, something short, sweet and exciting ?
Well, yup this snowshoe trek is for you!
Combination with sledding is possible

| | |
| --- | --- |
| Requirements | You must enjoy the great outdoors, suits all levels of fitness |
| Season | December - April |
| Duration | 1 - 3 hours |
| Start times | 10am or as arranged |
| Price | CHF 85.- per person all inclusive from Interlaken (minimum 5 people) |
| Includes | Snowshoes, poles, avalanche transceiver, trekking boots, fleece, gloves, beanie, gaitors, warm tea and a backpack, mountain guide |
| Not Included | Fondue, drinks in the hut, mountain cableway, lift tickets if required |
| What to bring | Warm ski or board wear, gloves, beanie, snacks, sandwich, energy bars, lots of water, suncream,sunglasses and a camera |
| Free Transfers | we will pick you up free of charge from your hotel/hostel in the Interlaken area, or from Interlaken Ost. |
ASK FOR YOUR SPECIAL GROUP, FAMILY, OR FRIENDS DISCOUNT
SnowshoeTrek Panorama
This is defiintely the most scenic tour we offer. Enjoy a 360 degree panoramic view of the world famous swiss alps.
Conbination with sledding possible
| | |
| --- | --- |
| Requirements | You must enjoy the great outdoors, suits all levels of fitness |
| Season | December - April |
| Duration | 4 -5 hours (as requested) |
| Start times | 10am or as arranged |
| Price | CHF 155.- per person( min. 5 participants) all inclusive from Interlaken |
| Includes | Snowshoes, poles, avalanche transceiver, trekking boots, fleece, gloves, beanie, gaitors, warm tea and a backpack |
| Not Included | mountain cableway, lift tickets if required |
| What to bring | Warm ski or board wear, gloves, beanie,picknic lunch, drink, suncream,sunglasses and a camera |
| Free Transfers | we will pick you up Free of charge from your hotel/hostel in the Interlaken area, or from the Interlaken Ost railway Station |
| Safety | All our tours are led by qualified IVBV, UIAA, SBV Mountain guides |
ASK FOR YOUR SPECIAL GROUP, FAMILY, OR FRIENDS DISCOUNT
---
Snowshoe Trek - Full Moon
Requirements
3 leisurely hours of trekking, suits all levels of fitness
Season
9. Februar 2020
9 März 2020 SUPER Mond
Duration
3.5 - 4 hours
Start times
6pm - 11pm or as arranged
Price
CHF 110.- per person all inclusive from Interlaken
Includes

Snowshoes, poles, avalanche transceiver, trekking boots, fleece, gloves, beanie, gaitors, Gluhwein and a backpack,
Not Included
Fondue, mountain cableway, lift tickets if required
What to bring
Warm ski or board wear, gloves, beanie, snacks, sandwich, energy bars, lots of water, suncream, sunglasses and a camera
Free Transfers
we will pick you up Free of charge from your hotel/hostel in the Interlaken area, or from Interlaken Ost.
Safety
All our tours are led by qualified IVBV, UIAA, SBV Mountain guides
ASK FOR YOUR SPECIAL GROUP, FAMILY, OR FRIENDS DISCOUNT
---
Reservations/Enquiries
SWISS ALPINE GUIDES
Bergsportschule
3800 Interlaken
Switzerland



Tel 0041 (0) 33 822 6000

Snowshoe trek gift voucher
Order now. Use immediately
Valid for 3 years
Free extention policy
Flexible payment method
Voucher Hotline
call 0041(0) 33 822 6000
WhatsApp +41796526000
voucher@swissalpineguides.ch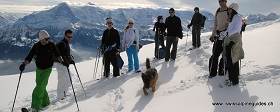 Heliskiing or Heliboard package